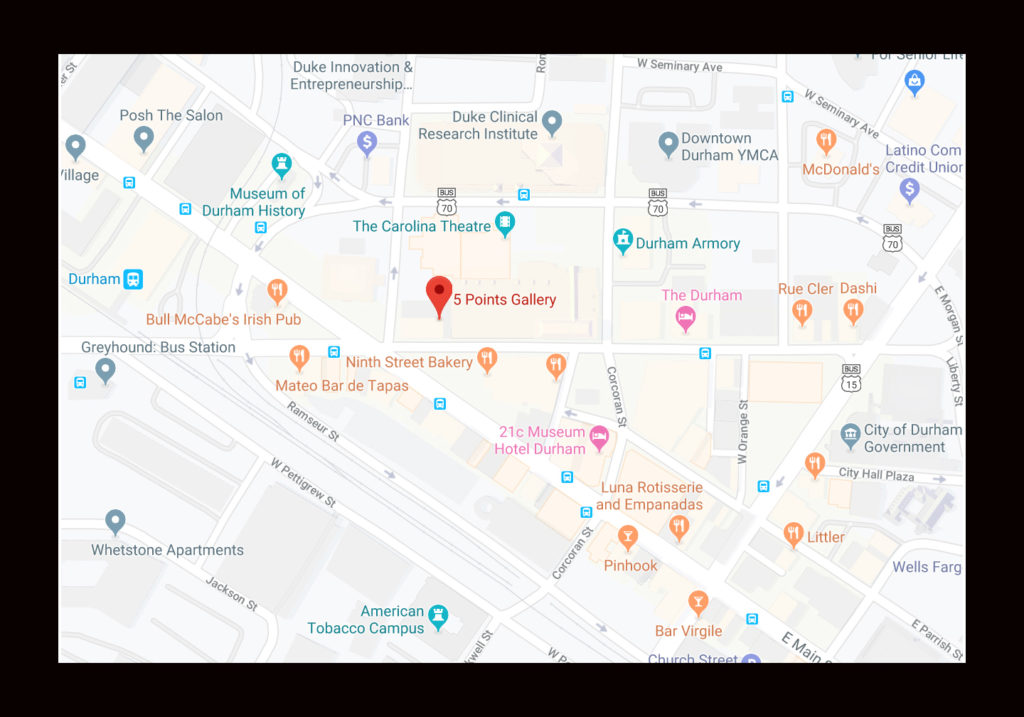 5 Points Gallery is North Carolina's premier fine arts gallery in the heart of Durham. Our contemporary artists live and work locally, creating original works, including painting, ceramics, sculpture, photography, textiles, mixed-media and jewelry.  They are dedicated to inspiring the lives of others and nurturing our sense of community.  5 Points Gallery's mission is to form meaningful connections and dialogue with our community of art lovers, local businesses, organizations and collectors.
5 Points Gallery: 109 E. Chapel Hill St., Durham NC 27701
Winter hours: Thursday – Saturday noon – 9pm, Sundays noon – 4pm.
Daylight Savings Time hours effective on April 1, 2020: Wednesday 2-5pm, Thursday 2-8pm, Friday and Saturday noon – 9pm, Sunday 12-3pm
closed on Thanksgiving, Fourth of July, Christmas and New Years (December 23, 2019 – January 1, 2020 closed).
(984) 439-8085
Follow us on Facebook, and Instagram or shoot us an email, info@5PointsGallery.com, with any inquiries. We look forward to hearing from you!